In this Guide, I'm going to share with you all I've discovered on How to start a blog in Nigeria while using SEO and affiliate marketing to actually monetize your blog.
The truth is that in order to make money from a blog you need to start thinking like you're operating a business and stop treating blogging as merely a passion where you write just about anything.
Do you think CEOs like Elon Musk or Dangote (Africa's Richest Man) would spend all day writing about their companies in front of a computer without an actual marketing strategy or plan?
These are questions we need to ask ourselves while starting a blog.
With affiliate marketing and adverts, we can make a decent income from a blog.
Affiliate marketing involves promoting other people's products or services and getting paid.
Affiliate marketing involves more than merely posting links on various social media platforms and hoping that someone would miraculously click on them.
It calls for a thorough marketing strategy, which I will be sharing with you also in this article.
I would be covering the process of starting a blog in Nigeria to marketing the blog for actual profit.
I would be discussing various topics from choosing a niche, setting up a blog, and scaling the blog to profits.
Are you ready? Let's begin!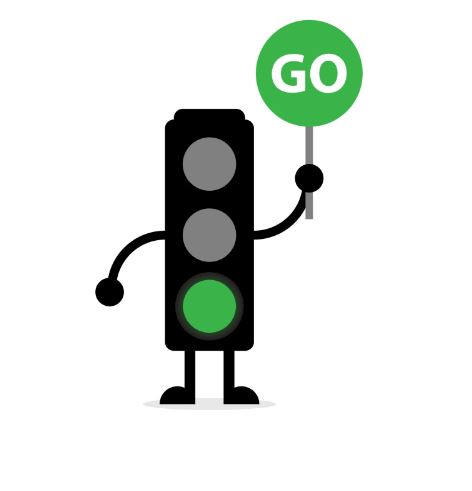 Choosing Your Transactional-Money Niche
The major mindset to have while blogging is to blog like a startup/business. That is you are blogging with the mindset of making profits with a well-defined strategy for your blog.
I know many bloggers would say "you have to be passionate about what you blog about",
but I totally disagree.
What I believe is that there is a striking balance between what is profitable and your actual passion.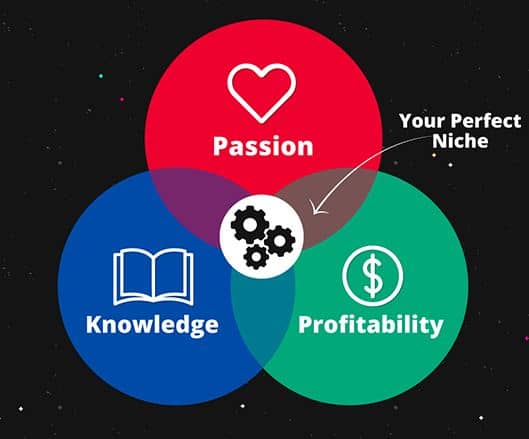 So how exactly can I find a good blogging niche?
Good question!
Prior to starting your blog, it's crucial that you choose your topic based on three key business metrics rather than your personal interests. These factors are as follows:
Keyword Volume
potential Audience
Affiliate Marketing Potential/ Ads CPC
You'll be able to run your blog like a STARTUP and not just as a HOBBY for passing time if you keep these three things in mind from the very beginning.
Let's look at these key metrics and how they affect your niche selection.
Keyword Volume/Competitiveness
In order to understand what keyword volume/keyword competitiveness is we need to know what a keyword is.
What are keywords?
A keyword is a search term a user inputs into a search engine, That is Google.com, Yahoo search, Bing, or any other site used to get information.
Google is the NO.1  search engine in the world and has the most users, so we are to target getting our site to be displayed on google search result pages in other to get visitors to our blog right?
Now we know what a keyword is,
what is keywords Volume and Keyword competitiveness also known as keyword difficulty.
Keyword Volume:
This is the quantity (or number) of searches made for a specific term within a specific period.
So, Does the niche have enough keywords?
A niche with a large volume of keywords gives you more content creation freedom and is thus preferable to start blogging on.
Keyword Competitiveness/Difficulty:
Keyword Competitiveness (KC) or KD is an excellent indicator of how difficult it is to rank for a specific keyword.
How can we determine these metrics?
There are  good paid tools you can use to get keyword volume and difficulty. they are ⁠—Semrush and Ahrefs.
But as someone just starting out you could search online for various free tools to check these metrics.
Potential Audience
As an upcoming blogger, You need to provide value by addressing a problem for your audience in order to generate income from your blog.
In order to provide your readers with the most in-demand answer, you should as a writer thoroughly comprehend their problems.
Can you provide a solution for a problem in that niche?
Your audience will resonate better with your blog and the content therein if it provides solutions and value.
Go for niches where you can give solutions to existing problems effortlessly. It really helps in looking for a niche where you are also a target audience.
This helps in resonating with the problems of your readers and giving actual answers to their real word problems.
Also, It is imperative you go for niches that are less competitive as they always have a great potential of getting a following.
Affiliate Marketing Potential
Affiliate marketing is still the most popular way to monetize a blog. It is the most passive form of income that anyone can generate while running a blogging business.
Once Google starts showing your blog posts on the Google search engine, you can make money while you sleep, all you have to do is simply add your affiliate link to the product/service you are promoting on your blog and you'll receive a percentage of the product sales for everyone who clicks the link and purchases the product/service.
Setting Up Your Blog
Setting up your first blog is easy and almost free. There are so many blogging platforms that you can use today, but in this post, I recommend WordPress. Here are my reasons for this:
WordPress is easy to set up

It is entirely free and still offers good themes and plugins

It is highly customizable and the software is frequently updated.

Their support system is excellent.

Around 60% of company-based blogs currently use WordPress as their blogging platform, meaning that it is reliable.
Pick A Good Hosting and Domain Name For Your Blog
A domain name and hosting is the basic requirement that you need for your blogging business. However, if you go with our recommended hosting, you will get a free domain name, so follow through.
What are domain names and web hosting?
A domain name is your blog's address and is where people get access to your blog online.
A good domain should define your brand in an easy and catchy way. An example of a well-known domain name is www.Facebook.com for Facebook.
While a Web hosting is like a 'house' where your blog lives online. Even if you have a good blogging platform like WordPress and a nicely selected domain name, it will be impossible to set up your blog if you don't have a hosting platform.
In this guide, I recommend BlueHost Web host for the following reasons:
It is easy and cost-effective.

You get a free domain name.

WordPress is already pre-installed

You get free technical support.

There is a 30-days money-back guarantee
If you are having difficulties choosing a domain name, You can watch this guide by Bluehost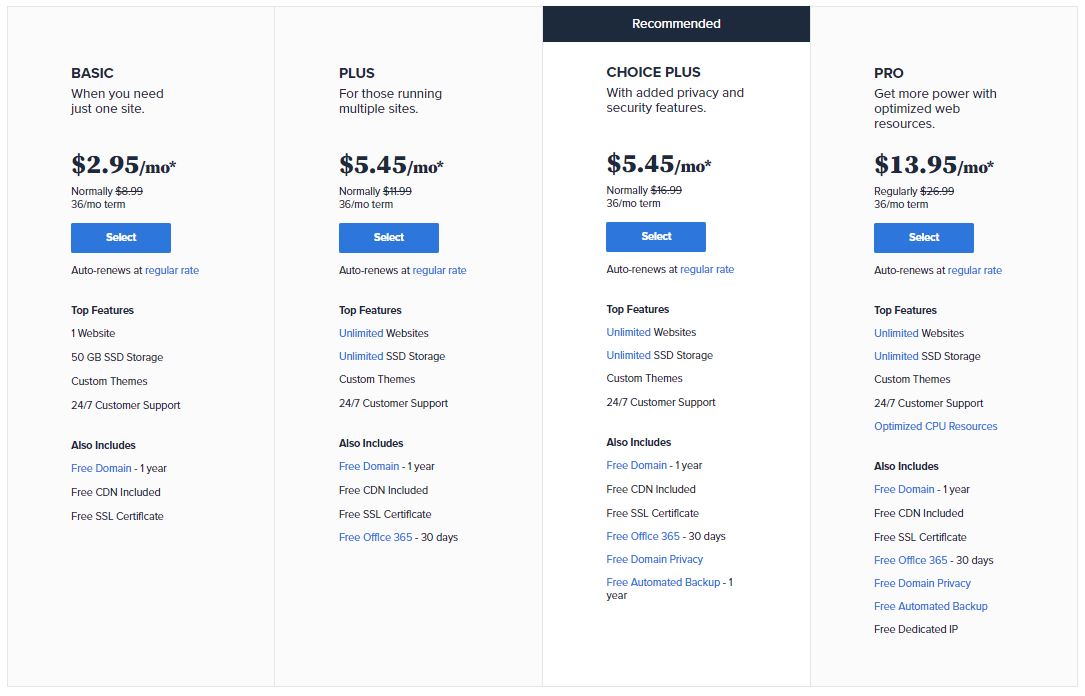 How to Create Your Blog with WordPress.
After the process of getting a niche, domain name, and Webhosting by BlueHost, it's now time to install your preferred blogging platform (WordPress), you can proceed to set up your blog.
Registering a domain on Blue host:
WordPress and other scripts are already pre-installed in your BlueHost hosting, you would need to login to your blue host account to access this.
The platform will prompt you to create a new WordPress account.
On creating a new account, you can log in to your WordPress account with the login details.
Skip the free theme section and click 'I don't need help when the question asking if you need help pops up. At this stage, your blog is almost set up and you will only need to do the following to complete the process:
Hover over the Settings section and select the General option on the left sidebar.
Add your site name (which is your blog name) and a tagline.
 Change the site's address to your domain name.
Lastly, add your email for password reset purposes later.
Your blog is ready and you can now launch it!
Choose A Theme For Your Blog
The first and most crucial customization you should do for your new blog is picking an attention-attracting theme.
Creating a website with bluehost:
If you go to your WordPress repository, you will get unlimited free themes you can use. However, there are paid themes that have more functionality and customizations.
So what qualities should you check in a securely purchased theme?
It should be easy to use
Must be compatible with the WordPress version you are using.
Should be highly responsive(mobile friendly)
Their support system should be exceptional
Here are some recommended themes  Themeshop and Generatepress as they satisfy all the above factors.
In this blog I use the kadence WordPress theme
They are premium themes, so you have to make a payment for them.
But As a beginner who is on a budget, you can use a free theme from the WordPress theme repository.
How to install a theme on WordPress
Go to the Themes section in your admin and click the Add New button
Click on Upload Theme and activate the theme zip you acquired.
Activate the theme on your blog
Plugin Installation
To automate most of the activities you do on your blog, you need to take advantage of WordPress plugins. Let's move directly to discussing example plugins that you should use to run your blogs on automation.
 Elementor– This plugin will help you with page design. It has tons of drag-and-drop features that you can use to create your dream landing page. For this purpose, you can also use Thrive Architect.
WP Rocket– It is needless to say that your potential audience will be looking for a fast-loading blog and it is thus crucial to increase its speed. WP Rocket will optimize your entire blogging website and make it easier for you to tap into this audience.
Rank Mathe SEO/Yoast– This plugin will automate SEO and make your blog rank better in search engine searches, therefore, increasing its traffic. An alternative plugin for SEO automation is Yoast
iThemes security– This plugin bars any hacking activities that target your blog. It is always essential to keep your blog and the information in it secure with such a plugin.
Resmush.it- If you are making a post with a lot of images, this plugin will help optimize them. The implication of this is a fast-loading blog
There are a lot of free plugins/themes in the WordPress repository, just like themes there are also paid plugins that were given extended features.
How to install a plugin on WordPress:
Head to your WordPress dashboard
Go to the Plugins section and click Add New
Select your Plugin Zip and select Install Now
Activate the plugin by clicking on Activate button.
Keyword Research/Creating Blog Posts
Keyword research is simply the method of researching relevant keywords ideas in your niche that you want to rank for.
When starting your blog, you don't want to just start writing your blog post right away. You need to know how to do keyword research before you write
But why do we need keyword research?
keyword research is very important in helping to know your ranking potential. Established sites around your niche may be ranking for a particular generic keyword, you don't want to target such keywords because it will be difficult to compete with these sites because they are seen as an authority around your niche.
How can I do keyword research? you may be asking. Well, they are various free and paid tools that can help you do keyword research with ease. Since you are just starting, it's advisable to go with the free ones but if you have the money to pay for the premium tools, it will be awesome.
How To Do Keyword Research
Keyword research can be done with either paid tools or free tools. Here are some of the top recommended tools to perform keyword research effectively:
Free Tools
Google Trends
Keyword Generator
Keyword Sheeter
Answer the Public
Keyword Surfer
Keyworddit
Google Search Console
Questiondb
Bulk Keyword Generator
Google Search
Paid Tools
SEMRush Keyword Magic Tool
Ahrefs Keyword Explorer
Moz Keyword Explorer
KeywordTool
KWFinder
We will focus more on the free tools since you are just starting and explain how you can use these tools to do keyword research.
Google Trends
Google trends is a free tool that provides you with a lot of data relating to search queries.
Features
Google Trends is a simple and well-designed website.
Google Trends is also free to use.
Google Trends lets you search for "terms" or "topics"
Google trends help you see keyword's interest based on your preferred location
How to use Google Trends
Google Trends lets you search for "terms" or "topics" using the search bar
You can search a particular keyword to see how it's performing over time. For example, I use sport betting which is a more generic keyword.
Google trends also give data about the state within the country that searches the keyword most.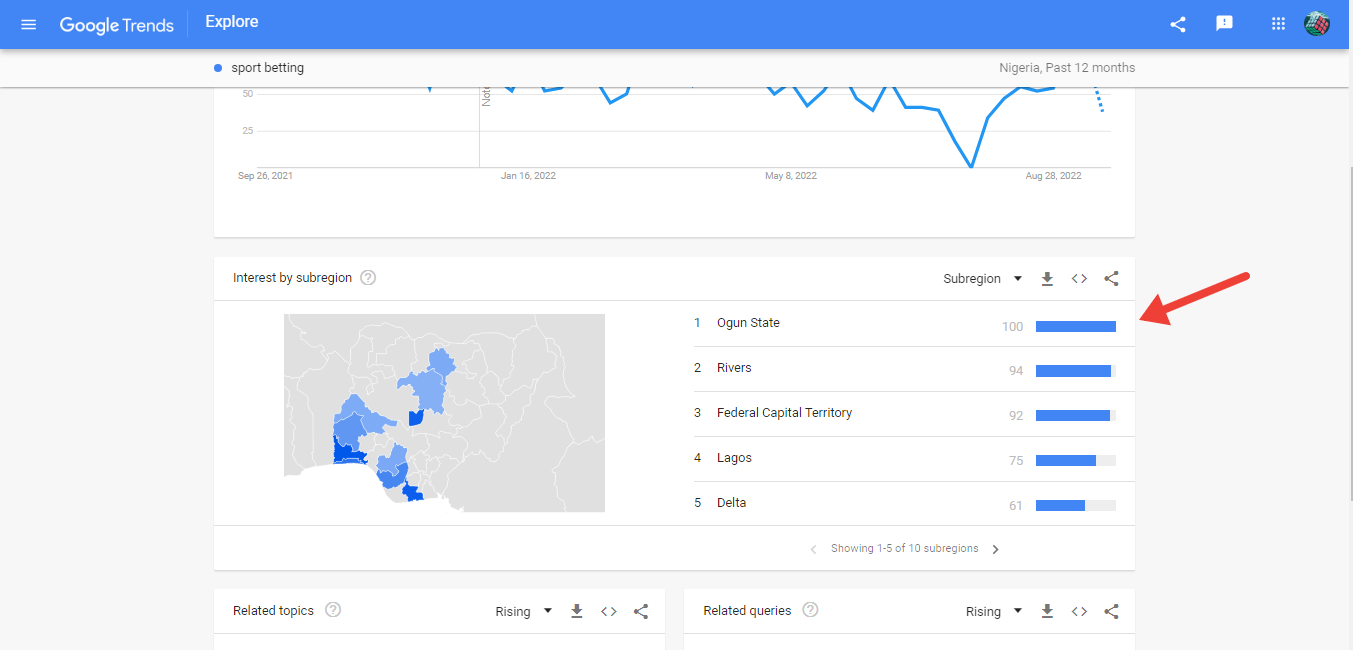 Google trends allow you to view related queries in which you can use for niching down further or finding related keywords.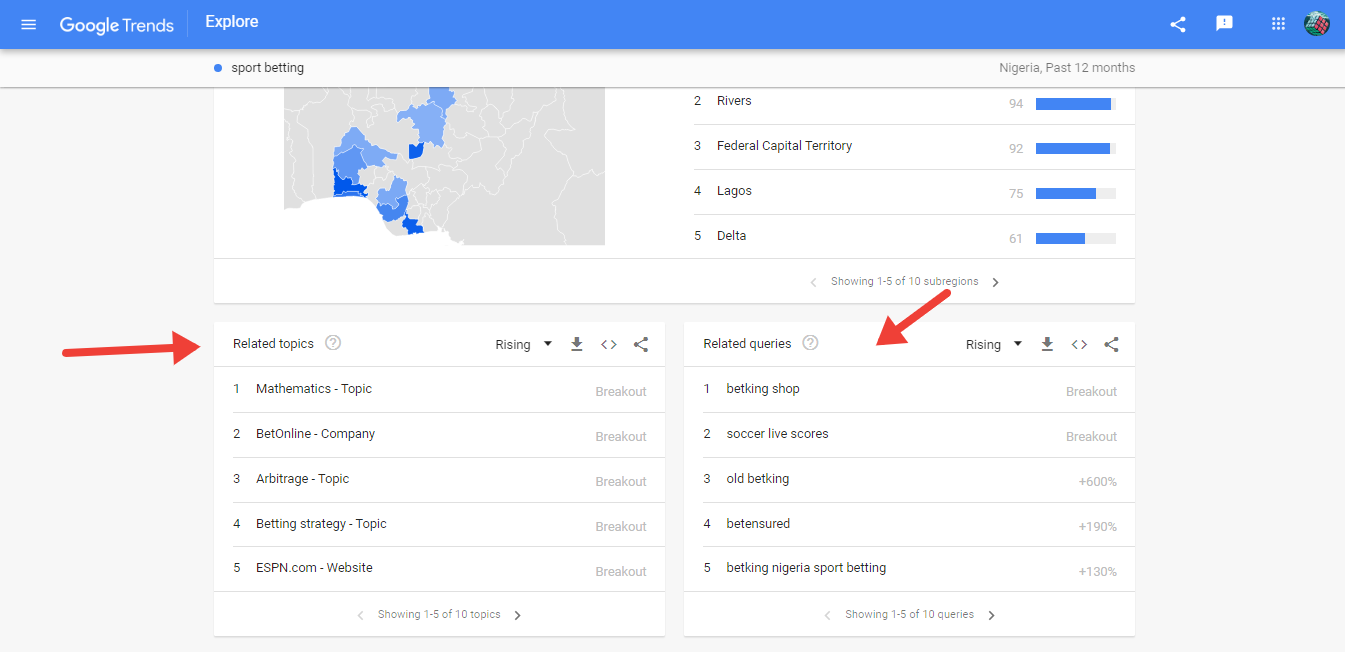 Based on where your target audience resides, google trends offers geotargeting with helps you target a specific region.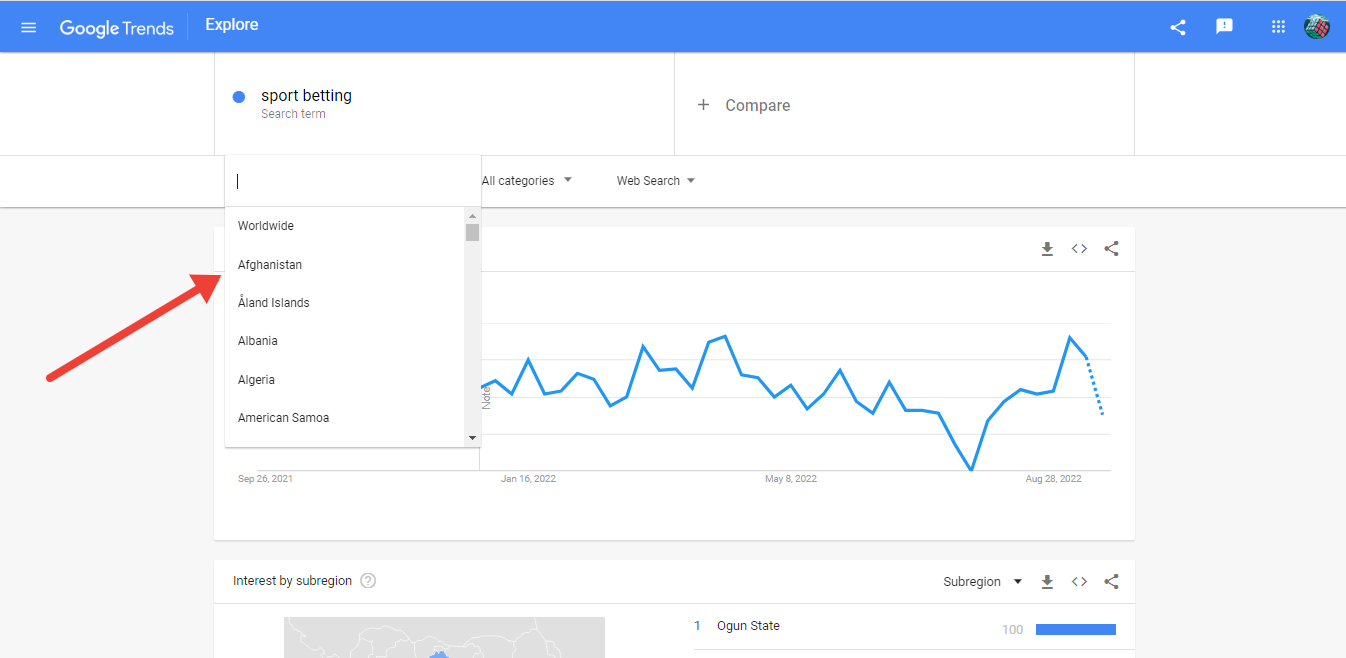 Lastly, you can observe certain trends over the past few days, months, or years in order to identify certain patterns which you can use to make your decisions. If you are seeing uptrends over a period of time, it shows interest in the particular search terms.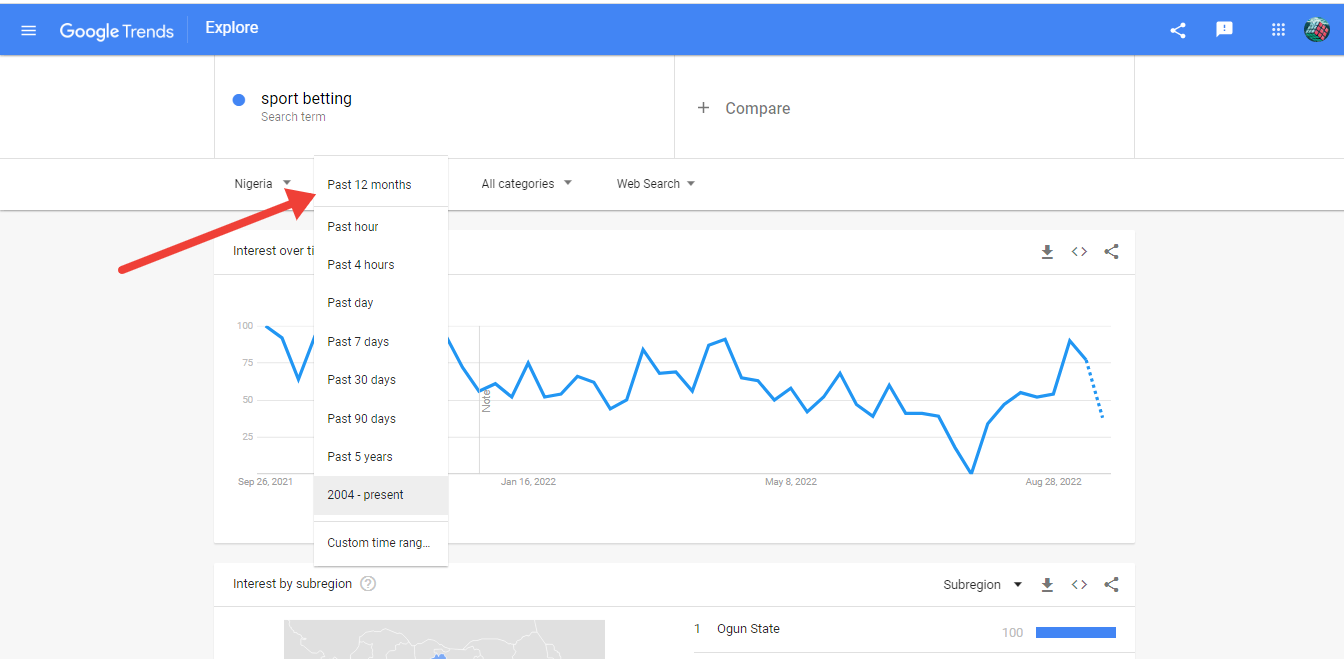 Keyword Generator
For any seed keyword, Keyword Generator generates up to 150 keyword possibilities.
Features
Keyword Generator allows to you find keywords based on locations
keyword generator displays search volumes and Keyword difficulty for a particular keyword
Keyword Generators has a sleek and friendly UI
How to use Keyword Generator
 with the keyword generator tool, you can input a particular keyword into the search bar and you will get a list of different keyword ideas. You can also do geotargeting by filtering based on a specific location. I used sport betting as a case study here.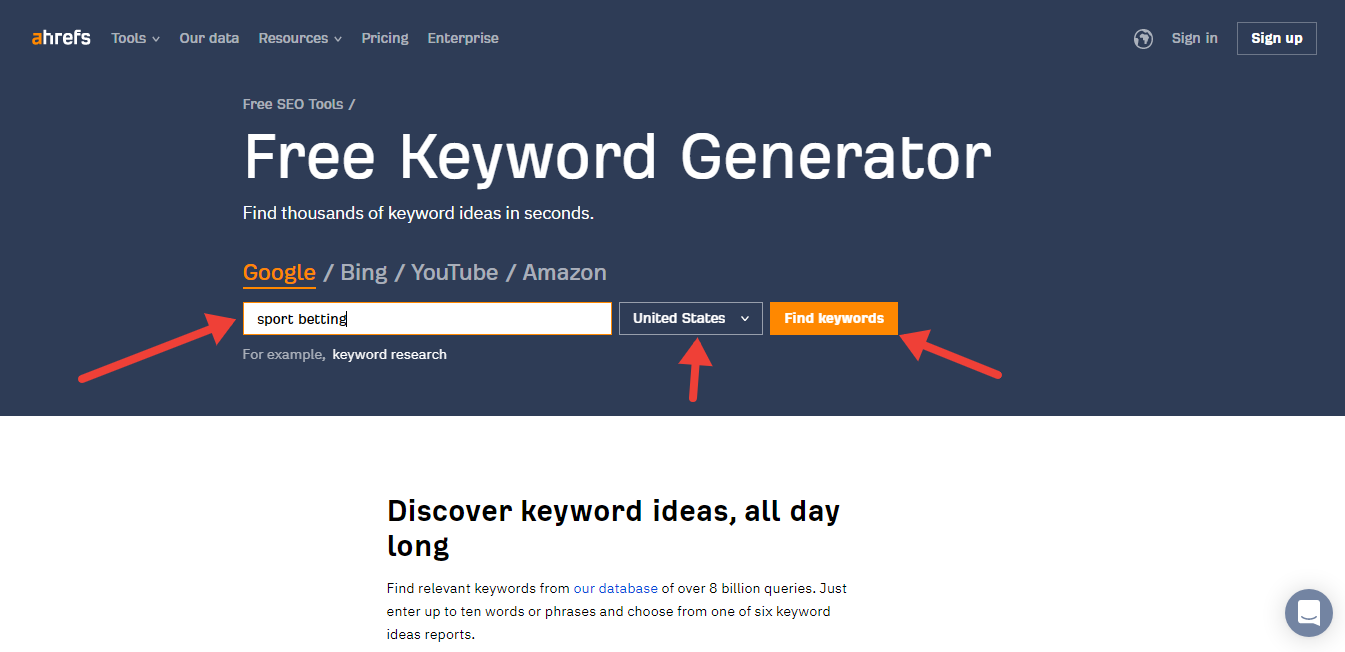 Here is a list of keywords showing their keyword difficulty and their search volumes. However, you want to go with the one with low keyword difficulty as you are just starting. Keyword generator gives you up to ten keywords per search, to access the remaining one, you need to pay.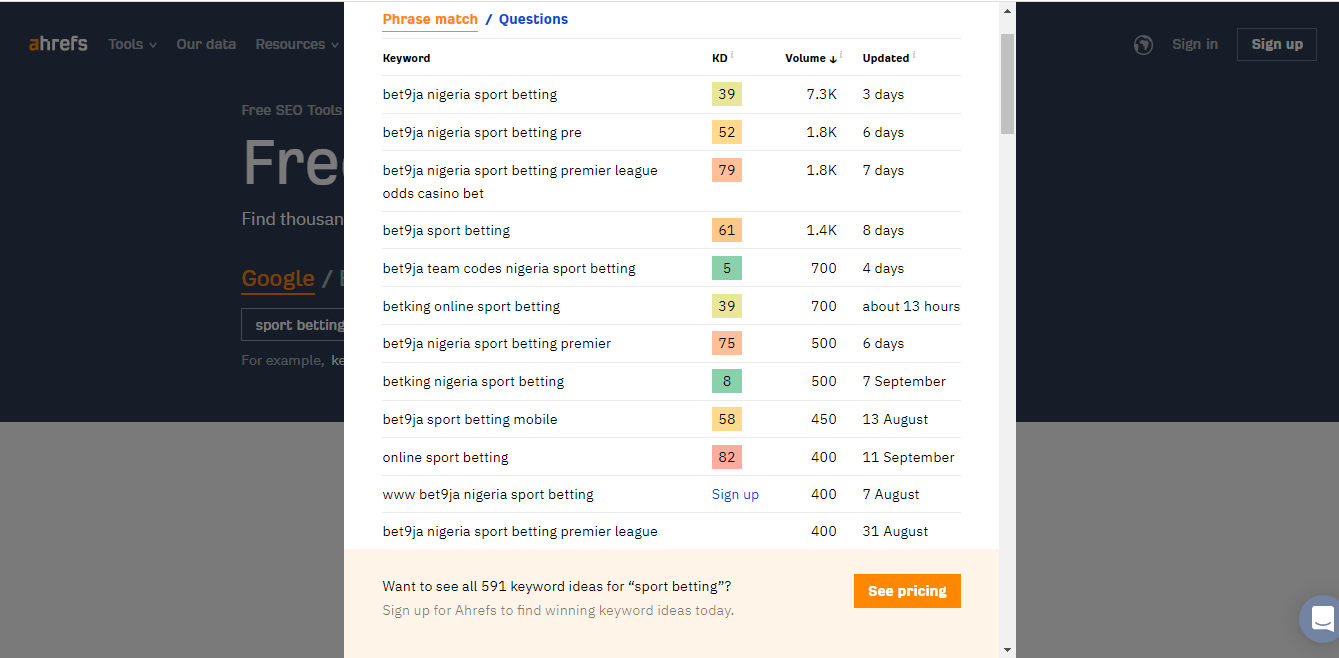 Answer the Public
AnswerThePublic is a keyword research tool that visualizes different types of keywords and how they are related.
Features
AnswerThePublic shows you a data visualization as a tree
AnswerThePublic has a toggle used to see the results in an ordered list.
You AnswerThePublic to come up with hundreds of topic ideas quickly and see which types of queries are most common.
How to use Answer the Public
with answer the public, you can input a particular keyword into the search bar and you will get a list of different keyword ideas which are based on questions.I used sport betting as a case study here.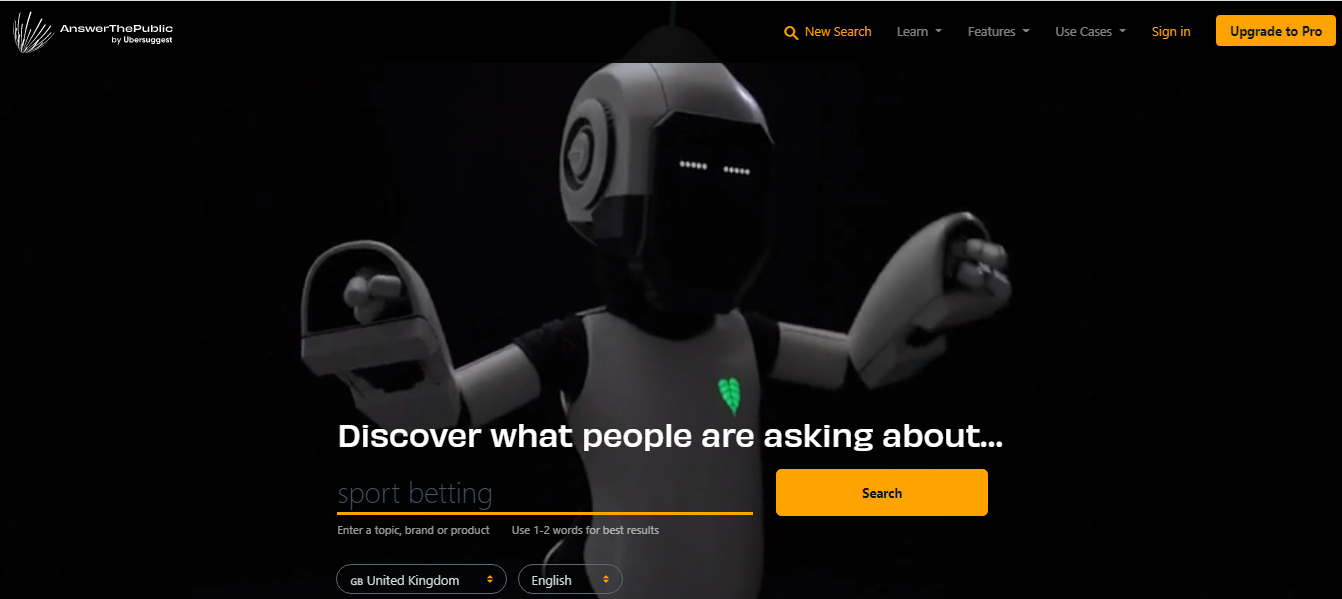 Search results are visualized like this by default. But you can visualized it as a list.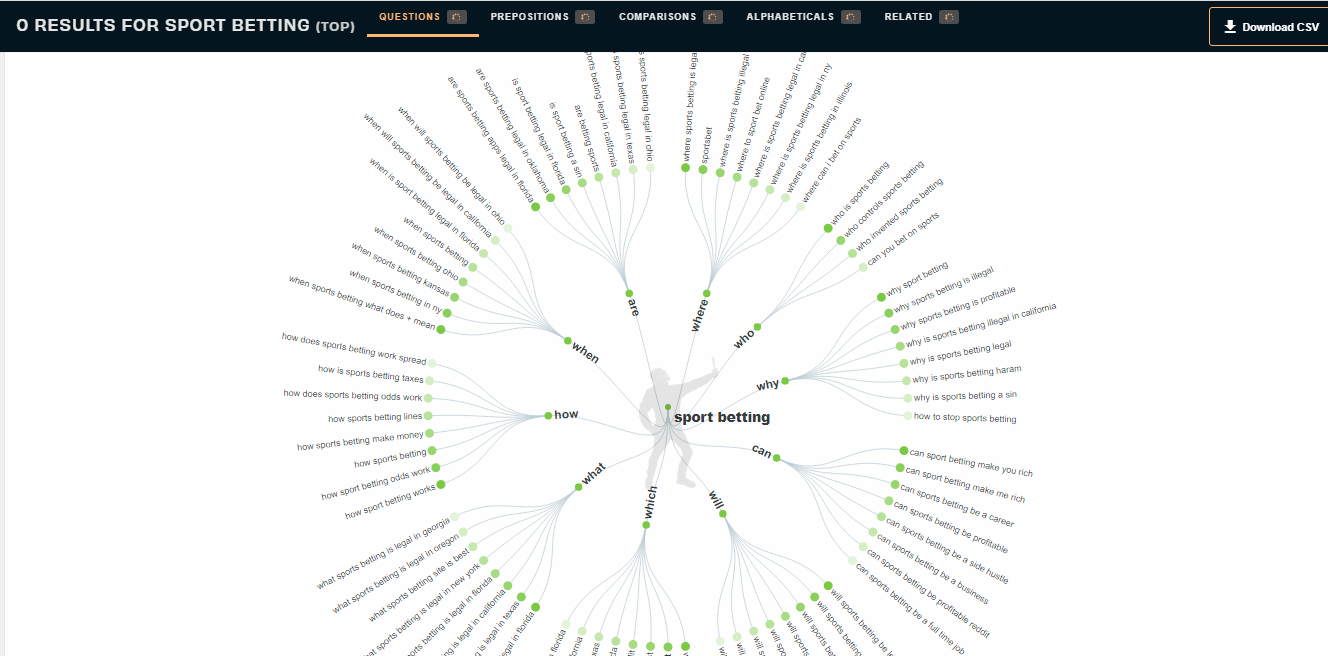 Here is a listicle visualization of your search result. you can get bunch of keyword ideas through this method and filter out the relevant one
Google Search
You can find new ideas for keywords through Google's search engine.
The People Also Ask section is Google Search's most powerful keyword search function.
It not only generates new keyword suggestions, but each question includes a link to the web page with the best response.
One of the most efficient strategies to attract search traffic to your site is to rank for one of these phrases.
You can check out the remaining tools as I won't cover all the tools listed above.
Formatting your Blog Post The right way
The purpose of having a strong content structure is to facilitate easy blog article navigation for users.
Additionally, they assist search engines in determining the subject matter of your page, which rewards you with favorable rankings.
I'm going to outline my blog post structure in simple terms to aid you with your work.
A strong content structure serves more purposes than merely facilitating easy blog post navigation for visitors.
Submit your blog post to the search engines
Search engines such as google, bing, and yahoo search might decide to crawl or not crawl your new post.
So it is intrinsic that you let them know that a new post or change has been done on your site by submitting the URL for indexing.
For the purpose of the article, we are going to use the google search console, other search engines have a similar way of submitting links.
There are two ways we can do this:
By using a sitemap, A site map is a list of link structures on your website. Yoast/Rank math plugin would help you autogenerate this. All you have to do is navigate to the Plugin section and locate the site map URL.
Manually submitting links via search console.
Before you would be able to use this feature, you would have to verify the ownership of your site. There are different verification methods available with instructions.
Monetizing your Blog Post With Affiliate Marketing
Affiliate marketing can provide a full-time income. The idea is to have focused content that grabs readers' interest throughout the research stage of the purchasing process.
In affiliate marketing, you do not need to own the product or service. You are basically promoting other companies products or services. You will receive a share of the sale(commission) if your reader clicks the link in your post and makes a purchase. Amazon's Associate program is currently the most well-known affiliate program. It's simple to enroll and free, as you just need permission to activate your account.
You can increase your affiliate income by acting as a link between your audience and the products and services they require to purchase.
By linking to a product from your blog, you can earn an affiliate commission of up to 10%. If you refer visitors to Amazon via your affiliate link, a qualified purchase will earn you that percentage. You can do a simple google search to check which affiliate program is available in your niche.
Scaling your Blog for income
Link Building
Link building is the technique of creating links (sometimes known as "backlinks") to your website in order to improve its search engine visibility (SEO).
Google employs backlinks as a primary ranking factor and is currently paying more attention to their quality than ever.
You want your blog to be linked by reputable brand and website that will drive traffic to your blog. Avoid the following types of backlinks from:
Blogs or website that have no relevance to your niche
Blogs or website that have bad reputation
Poor quality website,etc
In order for you to be successful in building quality backlinks you ned to :
Developing Bonds with Other Bloggers
Giving Other Websites Value
Making Your Dream List for Your Website
Building links is a continuous and delicate process.
Begin by assessing your page's link profile today, make corrections and redirects, and search for partnerships and connecting possibilities to boost your backlinks.