Video content is taking over the content marketing industry and only the best video content are standing out.
Creating quality video content might be a bit of brainstorming but with the help of AI video generators like Synthesia, the steps to creating video content have been broken down and made a lot easier. But with a lot of AI video generators out, how do you know the best Ai Video Generators in making your videos stand out?
In this blog post, we will be going over 8 of the best AI video generators to take your content to a new level of awesomeness. Mind you, getting the best of anything comes with a price so we will also be listing their price tags so you can choose wisely. Without any further words, let's dive in.
What Are The Best AI Video Generators?
Among the tons of AI video generators on the internet, there are but a few which deliver high-quality video content, and as always, I bring you only the best to give you satisfaction. Each AI video generator was built differently for different purposes but these 8 will give you perfection when it comes to generating video content.
These aren't the only AI video editors that are great but from my experience with most of them, these 8 have seemed to give me more satisfaction than most other AI generators.
1. Designs.AI
Best For Generating Promotional Videos
The first AI video generator on our list is the Designs AI. Designs.ai is an extensive platform that combines amazing artificial intelligence marketing tools for making logos, designs, and videos.
The VideoMaker tool works perfectly in generating videos from texts. However, that's not all it offers.
Designs.AI can also be used to resize videos for Facebook, Instagram, Twitter, or TikTok to get the most out of your marketing strategies on social media platforms.
Compared to other AI video generators, Designs.AI is affordable and they also have a free plan that gives you access to its Logomaker, Designmaker, Speechmaker, and Videomaker.
Features
Project collaboration
1-click resize
Access to over 500K audio files and 50 voices
Over 20,000 templates to choose from
Unlimited video and logo generation
Pros
High-resolution videos
1-click resize
Automatic voiceover generation
Support 20 languages
Unlimited video generation and downloads
Cons
Maximum video length is 90 seconds.
Pricing
Free
Basic plan: $39 per month(annually)
Pro plan: $79 per month(annually)
Enterprise Agency plan: Custom Pricing
Visit Designs.ai
2. Synthesia
Best realistic AI video generator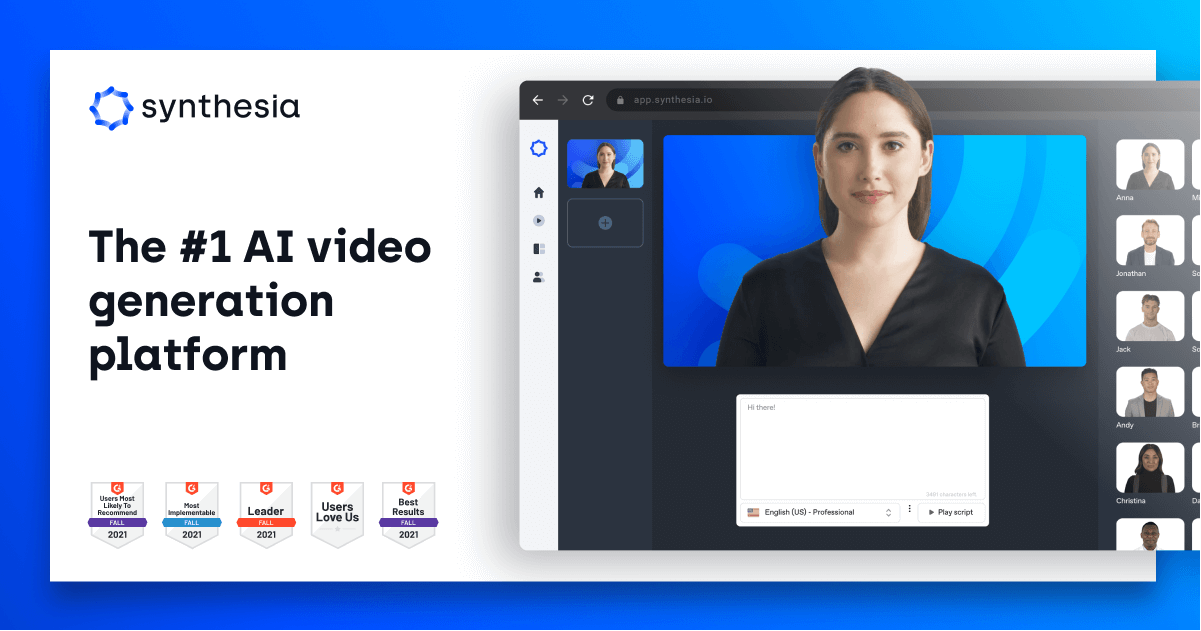 Synthesia is an artificial intelligence (AI) video generator that uses advanced natural language processing (NLP) and machine learning algorithms to create high-quality videos from text in over 50 languages without the use of actors, cameras, or microphones.
This too is ideal for small businesses that need extra content but can't afford to engage pros, as well as individuals who want to create movies for personal use.
This artificial intelligence text-to-video converter can scan the content of your blog posts and web pages to create relevant and compelling videos.
Simply sign up, choose your AI avatar from over 40 options or custom make your own, type or paste your script, and download your AI films after a few minutes.
Synthesia also allows you to replace the AI's voice with a real voice just in case you want to change it. But that's not all. Suppose you make a mistake in your script writing, you can correct it by duplicating the video and changing the text and your new video will be up in a few minutes.
Features
Access to 40+ avatars to create realistic AI videos
The ability to create and use your own avatars to make videos
Free stock images & videos
Custom avatars
Video-sharing pages & embeds
Access to free background music
Supports 60+ languages
Access to over 30 templates
Pros
Generate videos from text
Videos can be up to 30 minutes long
Upload custom image or video backgrounds
You can create videos in over 60 languages
Cons
Some avatars don't sound normal
Pricing
Personal plan: $30 per month(annually)
Corporate: Custom Pricing
Visit Synthesia
3. Lumen
Best video maker with a built-in text-to-video generator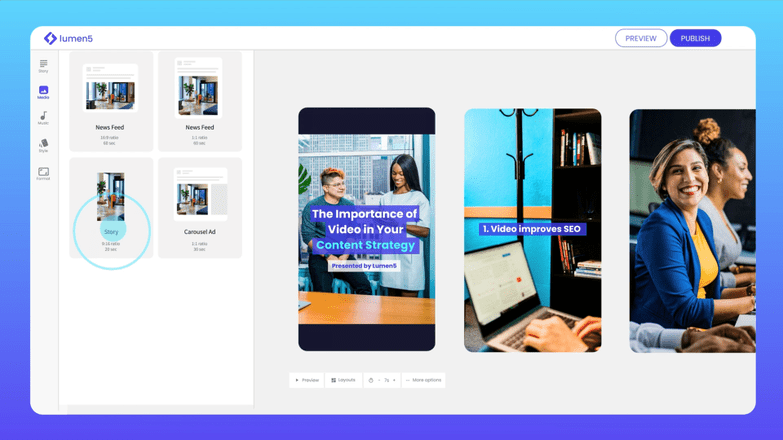 Lumen5 is an AI video-creation platform that assists you in transforming content into compelling visual storytelling for marketing and brand recognition.
With just a few clicks, you can build an interactive story. One of my favorite aspects is that it employs artificial intelligence to find musical visuals to complement your speech.
Generating videos using Lumen5 is simple, quick, and inexpensive. It also enables you to make ai videos that appear professional and are of great quality without the need for standard video editing software.
All you need when making a video with Lumen5 is a script, and it takes care of the rest. It selects layouts that are a perfect fit for what you've written and overlays them on an outstanding background—very visually appealing.
Features
Content library with millions of stock photos & videos
Unlimited video creation
Upload your own photos and videos
Custom colors & styles
1080p video resolution
Upload watermarks & fonts
Pros
Excellent User Interface
Easy-to-use drag-and-drop video maker with innovative AI features
Stunning Natural Language Processing (NLP) and Computer Vision
No restriction on usage
Cons
Cannot create a video that is more than 5 minutes long.
Cannot change the position of texts or images on the video.
Pricing
Community plan: free for life
Creator plan : $11.00 per month(annually)
Premium plan : $59.00 per month(annually)
Business plan: $149.00 per month(annually)
Enterprise plan: Custom Pricing
Visit Lumen
4. Invideo
Best for creating marketing or explainer videos quickly and easily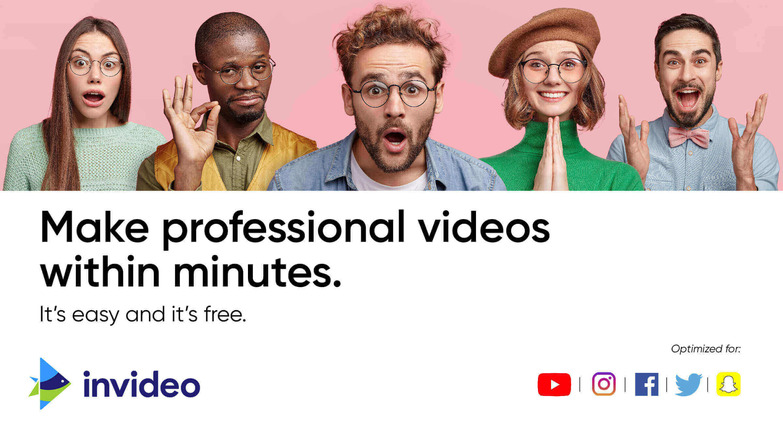 InVideo is an AI-powered video generator that generates videos based on text input. This program makes it simple to generate high-quality videos in a matter of minutes by utilizing professionally designed and animated templates.
It provides access to over 5000 themes, iStock photos, a music library, filters, and other features. InVideo also provides 50+ AI-powered themes for simply converting text-based material to videos. From their library of 5000+ configurable templates, you may make a variety of videos such as video advertising, promos, YouTube videos, intros, and more.
To make a video, select a template or theme and enter any text. That's all there is to it; you can easily turn that script into an excellent AI video. And you can as well include multimedia like music, text, photos, and more.
This software can be used to generate a variety of videos, including memes, promotional videos, presentations, video testimonials, slideshows, and much more.
InVideo also offers a smart video assistant (IVA) meaning this AI-powered assistant will automatically detect and correct any errors in the design.
Features
Access to 5000+ templates
Provides iStock media and music library
Automated Text to Speech
Offers powerful editing software to customize your videos
Its intelligent video assistant (IVA) can check your designs for mistakes you could miss.
Text to video maker
Pros
Supports a wide range of languages
Gives you access to over 50 AI-powered themes to create videos
Unlimited HD video exports
More affordable than most of its alternatives
Cons
Video duration cannot be longer than 15 minutes.
Pricing
Free plan
Business plan: $15 per month(annually)
Unlimited plan: $30 per month(annually)
Visit Invideo
5. GliaCloud
Best for generating videos from social post and live sport events.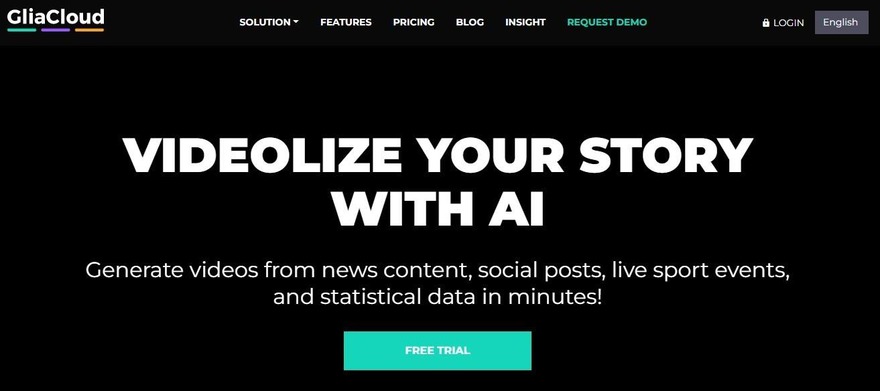 GliaCloud is an AI video generator that allows its users to generate videos from social media posts, news sources, RSS feeds, and sports events by customizing text-to-speech videos in a few minutes.
This tool is a great option for businesses and enterprises that are looking forward to engaging their audience with high-quality video content.
GliaCloud offers a variety of features that aids its high-quality video generation such as; Voice overs, text-to-speech, zoom frame, montage makers, and a lot more.
Converting an article into a video can be done easily when using GliaCloud; All you need to do is provide the link to the article and your video content will be available in no time.
GliaCloud is an excellent tool when it comes to converting text to speech however, the only thing that gets me off with the software is the pricing. I and a lot of other users believe the pricing is slightly too much for the features it offers.
Features
URL to videos
Voice over
Trim video
Transition effect
Video Layout
Video Music
Article to video
Online video editing
Add external source media
Pros
User-friendly interface
Amazing video editing features
Article converter
GIF maker
Cons
Pricing
Pro plan: $300.00 per month(annually)
Business plan: $500.00 per month(annually)
Enterprise plan: Custom pricing
Visit Gliacloud
6. Synths Video
Best for generating AI lip-sync videos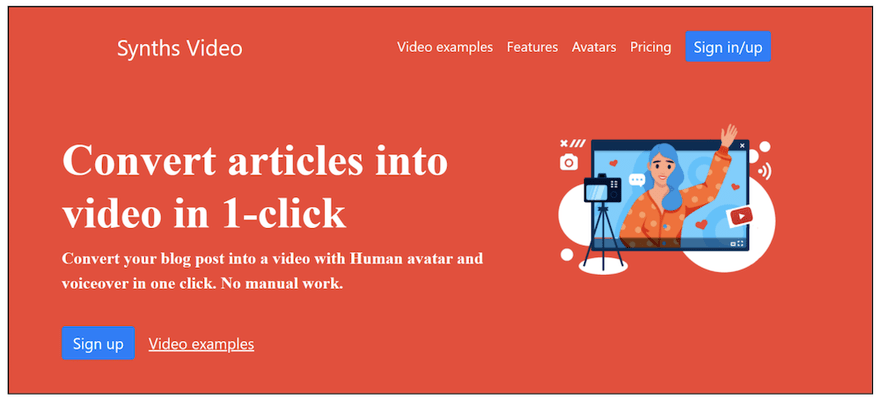 Similar to GliaCloud, Synths Video is another AI-based service that automatically creates professional-looking videos with over 30 human avatars and voiceovers from blog articles.
Synths Video helps you generate high-quality videos from written articles and all that is done simply by pasting the URL of the article for conversion; No manual work.
This software's main goal is to help all types of websites drive traffic and leads from YouTube and build a separate distribution channel for their content.
Another fascinating feature of this software is that They have built-in integration with YouTube giving them access to auto-upload your videos with your permission they deliver videos 20 minutes after the news release.
Synths. Video uses AI to translate your text and supports over 40 different languages but that's not all. They also have different human avatars that support reading content with lip-sync tech.
Features
Generate video from article content
40+ Ready to use Human avatars
Reading content with Lip-sync tech
40+ different languages
RSS feed support
YouTube video upload
YouTube video optimization
Drive leads and sales from YouTube
Pros
Grow your brand awareness
Scale your video production
Super fast video creation
No manual work required
Cheaper than hiring professionals
Simple video marketing
Cons
Pricing
YouTube Start plan: $399 per month for a 10-video pack
Premium and customizable plan: Produce as many videos as you need, up to 100 videos per month for $2000 with YouTube thumbnails, branding, and more.
Synths Video
7. Pictory
Best easy to use text to video generator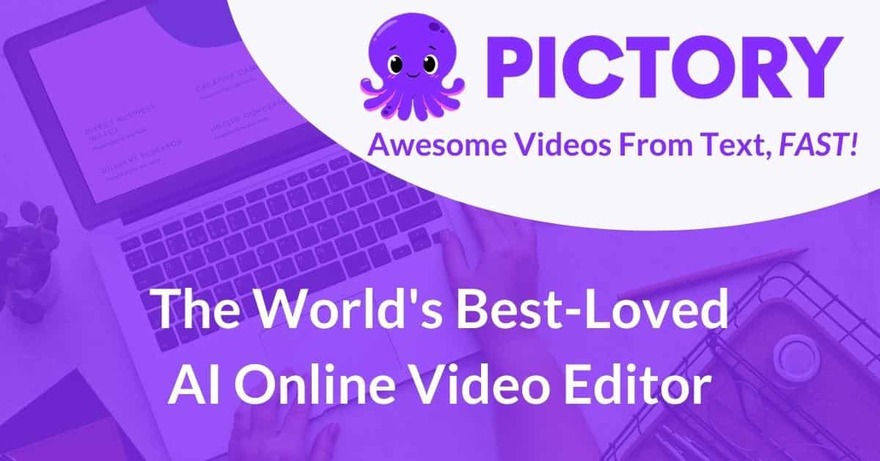 Pictory is one of the best AI video-generating software that allows you to swiftly convert texts into video content and also extract short video highlights from subtitles or webinars and convert long-form text into summary videos using free stock media assets.
Pictory AI can be used to create videos for different purposes be it – branding, training, education, sales enablement, e-Learning, SaaS, marketing and so many more.
The software also has social media integration so you can automatically upload your preferred videos to YouTube, Twitter, or Facebook.
Pictory has numerous advantages. Not only is the pricing relatively affordable and the video quality excellent, but you can also select from a large choice of voice actors to add a personal touch to your movie.
Pictory also offers a 15-day money-back guarantee if you're not satisfied with the outcomes.
Features
Blog post to video
Edit video using text
Auto caption videos
Auto-summarize long videos
Script to video
Auto transcribe videos
Pros
Simple user interface.
Very affordable
Wide range of video customization options.
6M+ licensed Shutterstock media included.
Affordable with unlimited videos in the plans.
Cons
The software is sometimes slow
Pricing
Free plan: $0
Standard plan: $19 per month (annually)
Premium plan: $39 per month(annually)
Enterprise plan: Custom pricing
Visit Pictory
8. Elai.io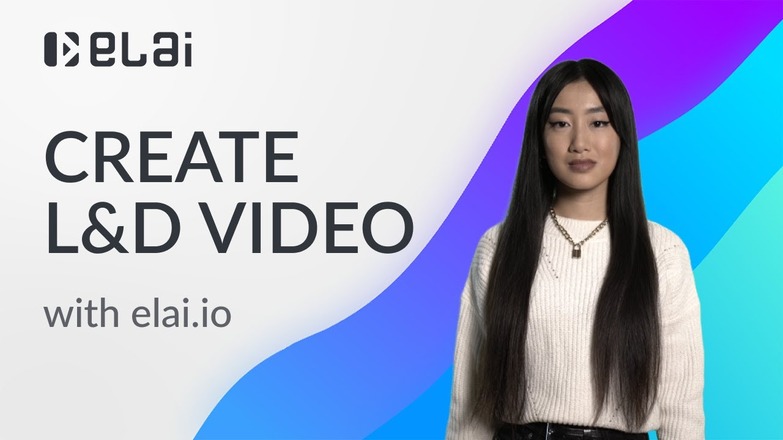 Elai.io is a top AI video generator that allows you to create personalized AI videos with a presenter in minutes without the need for a camera, studio, or green screen.
This software can also transform a blog post into a video in three clicks. Elai.io allows you to make training films in over 65 languages without the use of actors, voiceovers, or post-production.
Elai can also help you increase organic traffic, improve viewer engagement, and give your firm the marketing boost it needs with attractive product videos driven by AI. You may also ask a friend to collaborate on a certain project by just entering their name and email address, and they will receive an invitation.
Features
Over 65 languages and more voices
A wide variety of video presenters
Endless stock photos and videos
Jaw-dropping animations to beautify your videos
Upload your own voice
Collaborate with a friend
Convert blog posts to videos
Add smooth transitions to your slides
Pros
Over 65 languages
User-friendly interface
Blog post to video converter
Over 40 video presenters
Cons
Video duration is limited to 30mins
Pricing
Basic plan: $29.00 per month(annually)
Advanced plan: $99.00 per month(annually)
Custom plan: Custom pricing
Visit Elai.io
FAQs
What Are AI Video Generators?
Artificial intelligence video generators are programs that allow you to make professional videos from text input.
They can be utilized to make interesting YouTube videos, marketing content, and even video presentations. The majority of these video generators offer simple interfaces and do not require any video editing expertise.
Many of them also have a plethora of capabilities, such as built-in music libraries, voice-over recording, and video templates.
The best part is that the majority of AI video generators are inexpensive, and some are even free to sample! If you want to make high-quality films quickly and easily, AI video generators are the way to go.
How Do AI Video Generators Work?
You must supply some input to the AI video generator before creating a video. You can either create the complete text for your video or simply provide the AI with a topic to work with.
Some programs, for example, can scan and analyze your input to identify essential concepts. The software then creates a screenplay to serve as the video's framework and locates essential media assets.
Most of the applications will ask you to choose a template and voice narration before you begin the video-making process. Depending on the magnitude of the input, the AI video generator will then swiftly turn your thoughts into a video.
Can AI generate original videos?
Yes! There are tons of AI video generators that generate unique and professional videos but that is based on the text you insert into the videos.
Conclusion
Video content is important for any business or brand and it can be used to boost social media engagement, attract traffic to your website, and even create leads and sales.
However, creating video content yourself might take more time and energy which is why AI video-generating tools are necessary.
Choosing video editing software may be a complex and time-consuming endeavor, especially if you need to produce material on a regular basis or have a large number of blog posts/articles to convert to videos.
These AI video generators are the best on the market right now, so give them a shot; several of them offer free trials, so you may as well experiment.