Finding the perfect email marketing service for your business can be quite a challenge for some.
Most email marketing services offer the same basic features – free trials, lots of email templates, email scheduling and social media integration. But then, pricing comes in and the features are toggled against the prices.
Email marketing allows you to automate your marketing workflow, track statistics, send better emails and build stronger relationships with your clients and website visitors. There is an overwhelming number of email marketing Platforms for small business.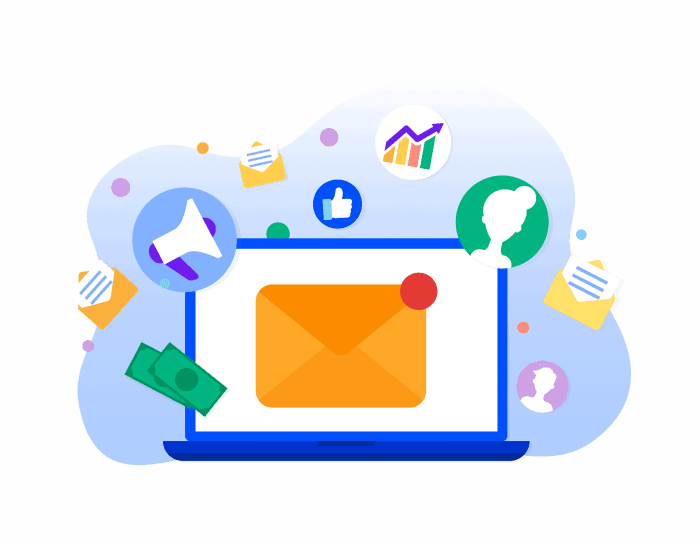 Instead of having to go through the stress of rummaging through up to 30 popular email marketing services, I've compiled this list of ten of them I think are the best in the market.
Note, however, that the list has been prepared in no particular order.
Best Email Marketing Platforms For Small Business 2020
#1.Kartra
Kartra is not just an email marketing platform for small business, It is a complete Suite of many market tools that you can use to run your business online, This service is one of the best out there, It key features is email sending, collecting leads, creating sales funnels,  advance videos marketing, affiliates and memberships.
Launched by two renowned online marketers in 2018, Who had successful businesses online, understood the pain involved in using different tools for marketing, This was the idea behind Kartra, making an all in one marketing tool.
Pros Of Kartra
Easy to use, with a clean interface.
Enables the user to perform other marketing functions.
Professional landing page builder.
Sales funnels builder.
Cons of Karta
High pricing
Some times the support system could be slow.
Pricing
Kartra Starter Plan is $99 per month
Kartra Silver Plan is $199 per month
Kartra Gold Plan is $299 per month Kartra
Platinum Plan is $499 per month
Kartra Enterprise Plan you will have to contact support for this
Each plan has different packages that would best suit your business, it's up to you to decide!
Here is a detailed review of Kartra below.
Kartra Review: Worth it? — Details, Features & Pricing
#2. GetResponse
Boasting a user base of over 350,000, GetResponse is more than just an email marketing platform. It is equipped with some features like a landing page and webinar creator. Left alone, these offerings may not really sound great. But put together, you can grow your email list exponentially.
Emails are created using an intuitive drag-and-drop builder. And the service has some advanced features like list segmentation, autoresponder, A/B testing, and software integration. And their Perfect Timing feature helps you to predict the perfect time of the day at which emails will be sent out to increase open rates.
Their knowledge base contains in-depth guides for people struggling with their service. And customer support is offered via email, live chat and even phone. It's quite intuitive, and even when implementing advanced features, you don't need any special skills.
Pros
It is easy to use.
Great marketing features.
A good number of third-party integrations
Cons
The free plan is short-lived.
Analytics would benefit from an upgrade,
24/7 phone support is unavailable.
Templates are somewhat outdated
Pricing
All three plans – monthly, 12 months, and 24 months – come with a 30-day free trial that grants you access to all available features. Since it's a pay-as-you-go service, there is no money-back offering. Paying for a year saves you 18%, and paying for two years gives 30% off.
Their pricing ranges from the Basic plan sells for $15 per month for a list size of 1,000 to the Professional plan of 100,000 contacts at $406 per month. For a list larger than 100,000 contacts, a subscriber would have to go for the Enterprise plan and negotiate for custom pricing. The enterprise plan offers transactional emails as a paid addon, deliverability consulting, webinars, and more.
#3.Constant Contact
Constant Contact has been touted as the best email marketing service for small businesses. Their email automation software comes with a 60-day free trial while offering several customization and integration options. And they keep things simple and easy to use.
Founded in 1995, the service has evolved into one of the best email marketing services in the world. They haven't rested on their laurels –  they have consistently raised the bar in their niche.
They offer an event management tool along with a creative social media tool that allows you to create coupons and downloads that can be shared on social media. You also get access to hundreds of integrations that allow you to integrate with other apps and services.
On top of this, you get access to access to lots of templates specific to your niche and a dashboard that displays your most relevant email statistics.
Pros
Social media campaign integration
Commerce and event integrations
Great user interface for navigations.
Cons
Their templates don't offer much flexibility.
As soon as your contacts hit the thousands, pricing increases significantly.
The service lacks good automation tools
 Constant Contact Pricing
Constant Contact has two pricing plans – the Email Plan and the Email Plus Plan. The Email Plan starts at $20 per month, while the Email Plus Plan starts at $45 per month. The prices for both plans change based on the number of contacts.
#4. SendInBlue
A powerful email marketing solution for low-budget needs, it also offers a free plan that comes with slightly limited capabilities. Relatively new in the market, it was originally intended to send transaction-based emails. Now, they have fused the powers of email and SMS campaigns into one platform.
Their free plan is quite generous, considering the fact that the plans are based on the number of emails sent, and not the number of contacts to which the emails were sent. The basic plan offers features like list management, email layout optimization and campaign reporting.
To gain access to the most advanced features, you must upgrade to one of their most advanced plans. That sounds complementary, I guess.
Pros
This email marketing platform offers basic CRM functionality.
They have a good stash of transactional email and auto-responder features
Lots of automation features
Cons
Their basic templates need some improvement.
Initial account setup can be quite a task
Pricing
They offer a free plan that allows you to have an unlimited number of contacts and send up to 300 emails a day. The paid plans range from $25 per month, allowing you send up to 40,000 emails a month with no daily sending restrictions, to $173 per month, allowing you to send up to 350,000 emails a month.
To gain access to even more advanced features like a dedicated account manager, priority sending and managed setup and priority support, you can request a quote and they would soup up something for you.
#5. Hubspot
HubSpot is an email marketing and CRM tool provider that offers great email marketing features to over 70,000 customers. They have a special focus on growing businesses. It offers straightforward integration with Gmail, G Suite and multiple versions of Outlook.
Once in, you will find a beautiful drag-and-drop email builder that allows you to customize layouts, add images, CTAs and make tweaks to your content. And you can use personalized content to enhance your interaction with your audience.
Other marketing features like email automation tools, ready-made templates, list segmentation and extensive analytics are included in in the free version.
Perfect for small and medium-sized businesses, HubSpot offers flexible upgrade options in the event that you need to scale things up in the future. And their CRM plans scale as you subscribe to the higher plans.
Pros
Great social media management capabilities.
Includes CRM integration.
Nice mix of workflow features.
Cons
SEO features would benefit from improvement
It's pricey.
Pricing
HubSpot offers more than just email and CRM. There's a whole lot on the table, so pricing can be quite tricky. Whatever the case, they offer a free tier that has quite a number of features, including up to 2,000 emails per month.
The Marketing Hub Starter plan starts at $50 per month, allowing you to send up to 5,000 emails monthly, while the Marketing Hub Professional plan starts at $800 per month and allows the sending of 10,000 emails a month. To get a good idea of what to pay to base on your needs, use HubSpot's price calculator
Paying for a full year for their Starter plan saves you %20 from your subscription.
#6. KEAP (Formerly infusionsoft)
A very robust email marketing provider, Keap offers an all-in-one suite combining email marketing, CRM and even more. This service allows you to create complete customer profiles that will help you to craft more targeted marketing campaigns.
Keap was one of the first email marketing providers to offer a drag-and-drop automation builder. You can simply set a goal that you want to achieve, then create an automation sequence that will reach that goal. And they also offer segmentation and subscriber tagging tools.
This service is fine for those who want to use a single tool for their CRM and email marketing. Still a great tool, it lacks split testing. And without this tool, it becomes very difficult to test the performance of one campaign against the other.
Pros
Adding contacts is easy
Great support service.
A powerful combination of CRM with email marketing.
Cons
Templates are few.
Reporting could use some improvement.
It's expensive.
Pricing
Keap offers uncomplicated pricing in 3 plans, namely Keap Grow, Keap Pro and Infusionsoft. Keap Grow starts at $40 per month, Keap Pro at $75 per month and Infusionsoft at  $100.After the first three months, pricing becomes $79 per month, $149 per month and $199 per month respectively.
#7. Mailchimp
For many, when they hear "email marketing," the first service that comes to mind is Mailchimp. With over 1 billion emails sent a day using their service, they are undeniably one of the leading email marketing providers. The fact that their company mascot, Freddie is well-known all over the world is a testimony to this.
MailChimp is constantly moving things around. New features are added every now and then. They offer social media integrations, they have a good number of templates that are easily customizable.
Among their advanced marketing features, you would find contact segmentation, autoresponders, service and app integrations, A/B testing, timezone-based sending and a lot more. Talking about support, their support team is very responsive and can be reached via live or email. And they have lots of educational resources available.
Many persons who use Namecheap don't go beyond their free offer. Mailchimp's free offer is great for bloggers and small businesses who don't have a huge contacts list or don't have a budget for email marketing.
Pros
The free tier is great for a lot of persons and small businesses.
A great stash of automation options.
Full-featured marketing platform.
Cool third-party integration options
Cons
The marketing platform could leave out smaller businesses.
Reporting functionality would benefit from a touch-up
Pricing
The free plan is free forever, and I think it's great. With it, you can send up to 10,000 emails per month and grow your list to up to 2,000 subscribers. The paid plans range from the Essentials plan that starts at $9.99 per month to the Premium plan that starts at $299 per month. The free plan is so feature-packed that you won't get any refund options or money-back guarantees.
#8.Drip
A relatively new service on the email marketing market, Drip focuses mainly on e-commerce, bloggers, and marketers. If you are a beginner in the email marketing space, Drip is a very good tool for you. It tops others with its marketing automation tools.
If you are into e-commerce or you sell digital products, Drip is a great choice. It will help you build a solid understanding of purchasing behaviour and customer intent. You will also be able to track metrics like cart abandonment, returning and new visitors, and email link clicks. That's not all. It offers integrations for Facebook ads, WordPress and WooCommerce, and sends follow-up text messages.
The bottom line? If you sell lots of products – physical or digital – and want to set up complex marketing sequences without stressing yourself, Drip should be perfect for you.
Pros
Fantastic customer service.
Good integration options.
Affordable service.
Support for automation
Cons
Adding call-to-action buttons to emails is terribly difficult.
The email builder still needs some work.
If you aren't using their forms, you can't get statistics into your website
Pricing
Drip offers a 14-day free trial. for 1 to 500 contacts, you get to pay $19 each month and can send unlimited emails. To see their pricing for yourself, check out their pricing page and drag the slider and see the pricing adjust.
#9. Aweber
A very popular tool in the market for almost 20 years, AWeber may be responsible for the invention of email autoresponders. They offer what you would expect from a top-class email marketing service, giving you access to a drag-and-drop email builder, lots of integrations and lots and lots of pre-designed email templates.
Using Aweber, automated trigger-based email sequences can be created. And you'll have access to data on deliverability rate, open rate, and can even run A/B tests on your emails. You can also integrate email signups on your website.
If you're new to marketing terminology, they have a good <a href="https://blog.aweber.com/guides">knowledge base</a> to get you started. And they offer support via live chat. Phone support is available Mondays through Fridays 8 am to 8 pm EST and on weekends 9 am to 5 pm EST.
Pros
Large selection of templates
Responsive email designs
Blog to email functionality
Cons
Unfair subscriber count. Unsubscribed emails count toward your subscriber quota.
User experience would use some update.
Many templates look outdated.
Pricing
For 0 to 400 subscribers, AWeber bills $19 per month. Having a subscriber count of 501 to 2,500 costs $29 per month. If you have between 2,501 and 5,000 subscribers, you get to pay $49 per month. $69 dollars a month will cover you if you have between 5,0001 and 10,000 subscribers. To keep 10,000 to 25,000 subscribers, you will have to pay $149 monthly. But if you have a list of over 25,000 subscribers, you will have to go for a custom solution.
#10. ConvertKit
Founded in 2013 by Nathan Barry, their target is the creative section of the market. This includes authors, bloggers, course creators, vloggers, and the like. One of their strongest selling points is the ease with which email automation workflows are created. With a visual builder, you can easily see what turns your email marketing sequences will take.
The package comes with a built-in landing page editor. Therefore, you can start email marketing without creating a website. As long as you have something that drives traffic (a YouTube channel or a social media page), you are good to go. They also offer tagging, advanced email segmentation and in-depth subscriber management.
Pros
Easy-to-use interface for creating great sequences.
Incredibly useful guides that make learning to use the service easy.
Good customer support
Cons
Organizing subscribers can be somewhat confusing to a newbie.

Customization could be very limited.
Expensive to use and complicated for simple needs.
Pricing
The free plan is not just a demo or a trial – no. It is a plan of its own that gives you access to unlimited landing pages, unlimited customizable CTAs and signup forms, 30 premium landing page templates, and much more. It also allows you manage up to 1,000 subscribers.
The other plans range from $29 per month allowing you to manage more than 1,000 subscribers, get visual information funnels, and more, to  $3,999 per month for up to 900,000 subscribers. For the paid plans, they give you access to all premium features for 14 days.
#11. Activecampaign
ActiveCampaign touts themselves as an all-in-one marketing platform. They aim at helping you send fewer emails and getting better results. They offer most email marketing solutions at a good price, making it easier for smaller teams to make use of email marketing.
Among the features on offer are segmentation, email automation, email funnels, triggered emails, A/B testing and personalization. They go beyond, offering advanced functionality like geo-tracking, managed deliverability, multi-user editing and conditional content.
Pros
It's easy to use.
The service is affordable, starting at just $9 per month.
They have integrated machine learning that powers features like predictive sending and predictive content.
Cons
The CRM feature is not so powerful.
Reporting is not great and would benefit from an upgrade
Pricing
ActiveCampaign has four plans, namely, Lite (from $9/month), Plus (from $70/month), Professional (from $159/month) and Enterprise (from $279/month). The entry-level plan gives you access to features like a template editor and marketing automation. Higher plans add lead scoring and a CRM tool.
#12. SendGrid (Twilo)
If your company sends lots of email newsletters, SendGrid should be good for you. It allows you to easily build and edit email templates. Its features include email designing, email analytics, A/B testing, email scheduling and automation. And they offer an SMTP API along with other integrations. Recently acquired by cloud-based communications giant Twilio, their services are expanding into SMS marketing too.
SendGrid offers a thirty-day trial that allows you send over 40,000 emails after which you can upgrade to a paid version starting from $14.95 dollars per month. Trusted by over 80,000 customers across the globe, they can help you drive engagement, offering you straightforward segmentation and actionable analytics.
Pros
Great for email marketing and transactional emails.
Regular updates to their software.
Easy to set up.
Cons
Their user interface can be a bit confusing.
Reporting can cost you extra money
Pricing
They offer a 30-day trial that allows you to send out up to 40,000 emails. If you don't upgrade, you are moved to the free plan that allows you send 100 emails per day forever. With the free plan, you get access to APIs, SMTP relay, webhooks delivery optimization tools and more. Other plans range from $14.95 a month to $748 per month, allowing you send 1.4 million emails monthly. If you have a larger email list, you may want to contact them to make enquiries for custom pricing.
#13. Campaign Monitor
If you are looking for an email marketing service that allows you send beautiful and personalized emails in a straightforward manner, and creating a reliable channel with which you can grow engagement, Campaign Monitor is a good choice. Featuring a beautiful drag-and-drop builder and engagement-based segmentation, it allows you to deliver targeted content to your subscribers without any core technical skills.
Campaign Monitor makes it super easy for you to create, send and measure the success of your email campaigns. Using their powerful email builder, you can create beautifully-designed emails that are very responsive.
One good thing about Campaign Monitor is the analytics they offer which covers subscriber activity and engagement acquisition trend analysis.
Pros
Convenient WYSIWYG editor
Easy-to-use custom auto-responders
Dynamic email templates
Cons
Absence of direct online support
Contact importing becomes tough when matching custom fields
Pricing
Pricing starts at $9 per month for the Basic plan, allowing you send up to 2,500 emails. It goes up to $989 per month, allowing the sending of unlimited emails and offering much more functionality like send-time optimization, time zone sending, advanced link tracking and more. If you are only sending emails occasionally, you can pay per campaign.
Wrap Up
Email Marketing is one indispensable way of communicating with your customers having the right email marketing platform that suits your business would help raise profits and also keep your customers happy because of the timely values you give them.