If you're a digital entrepreneur and you're looking for a platform to easily scale your online business in this super-competitive digital world, I mean a platform that is fully designed for small businesses who are eager to sell their products online, how would you feel if you're handed over a great intuitive and all-inclusive solution?
If so, then an all-in-one tool called Systeme.io has been doing wonders for lots of businesses. Just imagine getting marketing tools and funnels in one place without having to spend thousands of dollars on individual systems.
For instance, Phil Wilson who moved to Systeme said:
I Got to love how simple it is to create and launch a course inside of Systeme! The best part is everything is an all-in-one platform. The courses, emails, funnels, etc. Makes life SO much easier when everything is automated in one place!
Personally, what stands out for me is the simplicity and capacity to address many marketing angles without having to pay a hefty sum individually.
Excited already? You should because at the end of this systeme.io review, you will discover up to 5 tools you need to Launch, Grow & Scale your Online Business such as Sales Funnels, Email Marketing, Website Builder, and more which are available for you on Systeme.io.
But What Exactly is Systeme.io?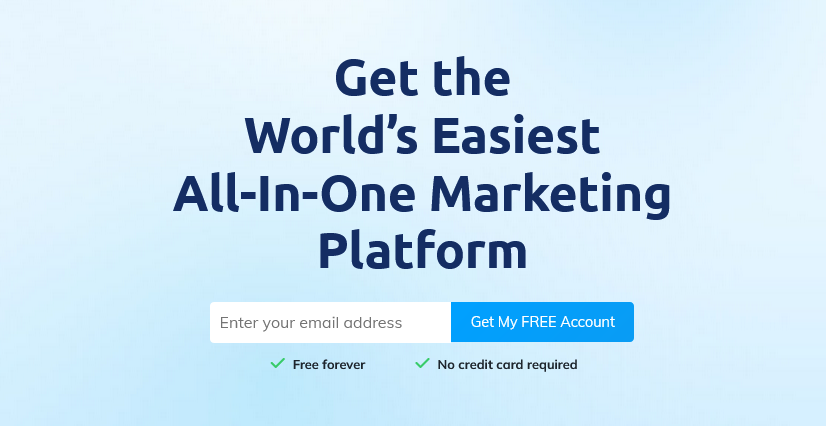 Systeme.io is an all-in-one marketing platform designed to deliver everything you need to build effective sales funnels and assist you to transform your business and marketing strategies from a personal passion, into a money-making enterprise.
The popular systems include building sales funnels and sending emails and it also enables you to run your entire business in one place making it a one-stop marketing platform.
One thing that stands out with Systeme is that it's designed for small business owners looking for easy and alternative ways to run their businesses and sell their products online and make money.
Popular Features on Systeme.io
Sales Funnels Creation
With Systeme.io, you can easily Set up Your Funnel in Minutes which takes care of the sales process from awareness to action and ultimately turns prospects into customers.
Systeme.io's sales funnel system allows you to build your business faster and easier than ever before. In fact, you can create a sales funnel in 55 seconds with a few clicks.
This sales funnel system comes with an easy-to-use editor, proven templates, email marketing integrations with triggers, payment platforms, and more.
 Email Marketing Integration
Apart from building your sales funnels, on Systeme.io, there's an inbuilt email marketing system that connects your email list with your landing page or website and sales process.
Excitedly, it has advanced email marketing systems to stay in touch with your customers through email campaigns, unlimited emails, sequences, performance tracking, and statistics, and ultimately segmenting your customers to get personal emails to specific groups.
Website Builder
Who in this age does an online business without a working website? I guess none.
Relatively, Systeme.io has made website building a no-brainer for your business with easy-to-use tools to launch your website using proven templates with drag & drop interface.
With its site drag-and-drop editor, you can build your site in minutes, plus it comes with the ability to integrate your email list, payment systems, and blog section to publish personalized content to your audience.
Business Automation Options
I'm yet to find anyone who likes to manually manage his or her business.
That's the reason the nontechnical people give jobs to Virtual Assistants. But as a Systeme user, you're not spending additional money on automation as your business is already designed with Autopilot in mind.
With Systeme's automation, you save time and energy by automating your business. For instance, you don't need to turn or capture prospects to leads manually but automatically with integrated funnels and email systems.
Going forward, you can add automated rules to any element of your website and funnel and automatically trigger emails and membership access.
Online Course Platform
How can I forget the ability to create and launch your online courses? With Systeme, you have an easy way to sell your course and deliver your content.
Of course, while other online course platforms offer advanced facilities which mean as a small business owner, you will have to create time to learn how it works, with the options on Systeme, you can build your course site without being techy.
To show it how it is, you can create your course site using its easy-to-use editor, and integrate your course access with payments from your sales funnels and websites.
And if you want something unique, you can enable timed access to your course via our drip feature, and more
So, Systeme gives you full systems to create, market, and sell your course all in the same place.
Another exciting feature of it is the affiliate marketing integration option.
Affiliate Program Management
Of course, by now you know that there are lots of affiliate marketing management/ tracking software whose work is to manage your affiliate program – which means you pay extra fees for this hosting.
But imagine a platform where All the Tools You Need to Track and Manage Your Affiliates are embedded. Yes, that's what Systeme gives you
With its affiliate system, you get to build an army of affiliates to sell for you, create automated affiliate payouts, and track your affiliates easily. That's not all.
You also manage affiliate commissions and payouts all in the same place and publish your offers on systeme.io's marketplace for thousands of prospective affiliates to see.
Multiple and Advanced Payment Options
Systeme offers the facilities to integrate multi-payment systems into your online business. That is, apart from PayPal and Stripe, you can add payment systems such as iDEAL and BanContact.
By the way, iDEAL is an online payment method that enables consumers to pay online through their bank. Payments are made via a bank app or online banking environment.
iDEAL offers some benefits over other online payment methods:
You do not need to register or enroll for the service. You can directly use iDEAL if you are a customer of one of the participating banks;
iDEAL is secure because you make your payment in the environment of your bank;
iDEAL is easy because all payment details are pre-filled automatically and you instantly know if your payment succeeded or not;
You keep control of your balance; the iDEAL payment is instantly visible on your bank account statement.
And Bancontact is a payment system responsible for checking, calculating, and processing electronic payments.
Bancontact payments can be made via debit cards using its features (with or without a PIN code, both contactless and via the visible chip) or reading a QR code via the smartphone.
Thus, one can make electronic payments in stores, stations, gas stations, or in online shops. It can also be used to withdraw money from the machine or to pay for it in a mobile way.
Bancontact is easy to use and it employs basic banking principles to accept and send transactions to the end beneficiary.
As with credit card payment online both acquiring and issuing banks are involved. So, the payments with Bancontact are not too complicated.
Also, Bancontact uses certain rules during payment processing. This ensures the transaction flow is secure and fast. The first component is licensing. That means acquiring and issuing banks have to meet Bancontact terms and conditions. Another component is general rules.
These rules include unity of fraud & risk management, quality & security assurance, and so on. The last part is the technical specifications to fulfill the processing services.
On Systeme, after iDEAL and BanContact are integrated and SEPA Direct Debit is enabled, iDEAL and BanContact options should automatically become available to choose from the funnel settings on Systeme.
Let's now go over its pricing options before we see the pros and cons and if it's worth your money.
Systeme.io Pricing Plans
Before we look at the paid pricing options, it's worth noting that Systeme.io has a 100% free plan with all the features you need to launch an online business.
With this free plan, you can test and will be equipped with all you need to get your business up and running, without spending a dime. Let's see the premium plans below.
Startup Pricing Plan
The Startup plan costs $27 per month.
It offers you up to 5000 subscribers.
Offers 5 blogs pages
Allowed 5 online courses
5 workflows are allowed.
Allows up to Sales funnels.
The only restrictions here are that you will not be able to create webinars or set your custom domain.
The Webinar Pricing Plan
The Webinar plan costs $47 per month.
Offers 20 blogs pages
Allowed 20 online courses
20 workflows are allowed
Allows unlimited sales funnels.
This plan basically offers you up to 10,000 subscribers, the possibility to set up 2 custom domains and you can easily create up to 3 webinars.
The Enterprise or Unlimited Pricing Plan
The Enterprise plan generally costs $97 per month.
Offers unlimited blogs pages
Allowed unlimited online courses
Unlimited workflows are allowed
Allows up to Sales funnels.
With this plan, you can easily set up 5 custom domains and build a contact list of up to 15,000 subscribers and all other features are unlimited.
Pricing verdict – As we can see, the pricing plans are flexible and affordable and the kind of features it provides are really awesome that can easily help in scaling your business.
Pros
Systeme.io offers a user-friendly dashboard interface.
Systeme.io helps you in reaching a wider audience.
It allows you to create a membership website without coding.
Ability to build an intuitive sales funnel
Assists in completing the structure for your online courses.
It helps you earn money from your online courses easily.
you are free to automate your tasks thanks to marketing automation features.
Systeme.io offers a 14-Day Free Trial.
Systeme.io is a multifunctional marketing tool.
Cons
It has limited design options.
Doesn't integrate with external tools and services.
Focuses more on courses than on physical distribution.
Email subscriber limits.
The need to study how all the features work.
Is Systeme worth it?
Without any doubt, Systeme is one of the best sales marketing services with advanced automation options.
It gives its users a good value for their money with features like email templates with triggers to save your time, Drag and drop email editor that lets you add elements and customize email templates, manage in-house affiliate programs, such as sales tracking and statistics, and more.
In conclusion, Systeme has Everything You Need to Launch, Grow, and Scale Your Online Business.
Who is Systeme best for?
Systeme is for anyone who wants an all-in-one marketing platform to build sales funnels, integrate email systems, launch an online course, manage its private affiliate programs, and more.
Alternatives to Systeme.io 
Below are other alternative marketing platforms you can use in place of Systeme.io.
Kartra
Kartra is a cloud-based all-in-one marketing platform to run your online business in one place. It cuts out hours of daily work while earning you effortless money around the clock with advanced automation.
What stands out for me with Kartra is the Agency management facility. Now, if you serve other people's online businesses, you can easily manage customer accounts from one centralized console. That is not all.
This management system includes Quick Analytics that tracks important metrics for each account in real time for a quick overview of their performance, Addition of New Clients under your Agency portfolio to your portfolio via two different ways: buy client accounts in bulk at a discount or import already existing accounts.
Others include creating login credentials for your clients, generating reports for your clients, and more.
Katra vs Systeme
Free plan – Katra does not offer a free plan while Builderall does.
Deadline funnels – Systeme offers a Deadline funnel option while Katra does not.
Blog Post – you can create and add unlimited pages of boots posts on Systeme while this is not offered on Katra
Marketing Calendars – Katra offers scheduled marketing sessions while Systeme does not.
Builderall
Builderall offers the marketing options to create, automate and sell online with a powerful all-in-one digital platform.
What stands out for me with Builderall is the multiple payment gateways such as Paypal, Mercado Pago, Stripe, Pagseguro, Cardcom, Braintree, PayFast, BitPay, Vindi, Builderall Gateway, Razorpay, Mollie, and Safe2pay.
Apart from the payment systems, you have fully automated WhatsApp marketing addons. With it, you can command a ground-breaking online launch Automation for message delivery in the most complete and advanced management system for WhatsApp.
Builderall vs Systeme
Free plan – Builderall does not offer a free plan while Builderall does.
Stripe Integration – Systeme offers this integration while Builderall does not.
Coupon Codes – Systeme offers this marketing strategy while Builderall does not.
Chatbots – Builderall offers advanced site bots while Systeme does not.
Advanced script generator – Builderall offers advanced script sources while Systeme does not.
Kajabi
Kajabi has everything you need to create, grow, and manage your knowledge and creator business.
What stands out for me with Kajabi is the ready-made app your customers will love. With the app, your customers are always on their phones, and now your products can be too.
The Kajabi mobile app puts your product right in their pocket, allowing them to get the most out of their purchase from wherever they are.
Because more progress for them means stronger testimonials and referrals for you.
Kajabi vs Systeme
Free plan – Builderall does not offer a free plan while Builderall does.
Deadline funnels – Systeme offers a Deadline funnel option while Kajabi does not.
A/B testing – Systeme offers A/B split test option while Kajabi does not.
Students – Kajabi allows limited students while Systeme does more.
Mobile Apps – Kajabi offers mobile app integration while Systeme does not.
 DropFunnels
Like Systeme, DropFunnels is a drag-and-drop landing page, and sales funnel builder that was built on WordPress which is the most popular and powerful website infrastructure around.
What stands out with DropFunnel is the ability to build advanced courses with FULL control of student progress. Drip content, lock content levels, and quiz your students to gamify the experience.
And for blog sections, you can build your blog to rank your content in Google, with no code and no tech.
DropFunnels vs Systeme
Free plan – Systeme offers a free plan while DropFunnels does not.
Deadline funnels – Systeme offers a Deadline funnel option while DropFunnels does not.
Email Marketing – Systeme integrates email marketing and campaigns while DropFunnels does not.
Affiliate programs management – while you can launch and manage affiliate programs on Systeme, DropFunnels does not offer this function
Workflows – Systeme offers workflows and systems while DropFunnels does not.
SMS Marketing – While DropFunnels offers SMS marketing, Systeme does not.
GrooveFunnels
GrooveFunnels is an all-in-one tool that allows users to build sales funnels, landing pages, and websites to sell products online.
What stands out for me with Groove is the GrooveKart integration, an outrageous powerful eCommerce platform used by over 500,000 people to sell their products online.
Its store templates get eCommerce store owners up and running, fast. And can make all the tweaks with a complete store designer that lets them effortlessly personalize and rebrand their store at any time.
GrooveFunnels VS Systeme
Free plan – both platforms offer free plans.
Deadline funnels – Systeme offers a Deadline funnel option while GrooveFunnels does not.
Email Marketing – both Systeme and GrooveFunnels offer email marketing and campaigns.
Workflows – both platforms offer workflows SMS Marketing.
Advanced facilities – GrooveFunnels offers more.
Mobile Apps – GrooveFunnels offers mobile apps while Systeme does not.
FAQ
What are sales marketing funnel Builders?
Sales funnel builders are systems or platforms that help build effective sales funnels catered to your site and let you hit better conversion rates.
The above as compared are a few sales funnel builders that can help you build an effective sales funnel.
Sales funnel builders like Clickfunnels, Kartra and Builderall are popular but expensive and lack a few important features as compared to Systeme which makes a whole lot of sense and is cheaper to an extent.
Conclusion
Systeme.io is no doubt one of the fastest platforms to grow your online business.
With it comes simplicity, ease, and practicality to your online business. Rather than the complex integrations and tech headaches, like what most entrepreneurs experience with the software.
With its ability to offer multiple options in one place, Systeme.io gives you the power and freedom to focus on what really matters in your business.
Therefore, if you're looking for platforms that offer a system you need to Launch, Grow, and Scale Your Online Business, then Systeme is your go-to platform.